I know, I've already committed the cardinal sin in blogging...it's been a week since my last post. For those of you who know me personally, you understand why I haven't been around. For the rest of ya'll, there was a lot of news in RSN last week, which I did mean to write about but sometimes life just gets in the way - I'm baaacccckkkk!!!!!

Tomorrow is a great day for all of us baseball fans - it's TRUCK DAY!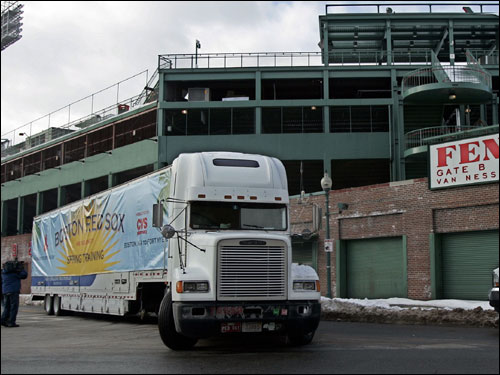 (photo courtesy of Boston.com)


Word on the street has it that the
team's equipment truck will leave Fenway Park tomorrow around 1pm to head to Ft Meyers, Florida. I'm not sure I'll be able to make it, but I'm sure going to try.
Member's of Soxy Lady's camp have also reported that at this very moment there is a ramp filled with Red Sox equipment bags at Logan airport! Eeekkk! I asked if there was a possibility for a picture. If one comes through you know I'll post it here.
Follow @SoxyLady