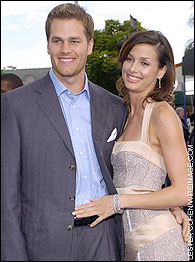 You, my fair lady, have every female fan in Patriot Nation (and there are a lot of us!) wishing they were in your shoes right now. Heck, I'm sure there are men who wished they were in your shoes right now!

Sure, Brady broke up with you. And yeah, it's true soon after learning he was the father of your child he went public with his relationship with super-sl&t Gisele Bundchen. The thing is, none of that diminishes the fact you are carrying the seed of Tom Brady.

There may be speculation that you got preggo on purpose since the tick in your clock is slowing down a little bit and you knew that your relationship was coming to an end. For that I say, "You go girl!" I would NEVER condone a woman getting pregnant to try and save her relationship but you, my fair lady, have got the golden ticket!

Congratulations and best of luck to you and your baby.

Sincerely,
Soxy Lady

P.S. If you use this baby to distract Tom from winning football games I will retract all earlier praise and congratulations!
Follow @SoxyLady