I'm tired.
You're tired.
We're all tired.
I have not been able to put together comprehensible thoughts on last night yet.
Instead I decided to catch up on my blog reads for the past few days, and came across this in a post from Joy of Sox: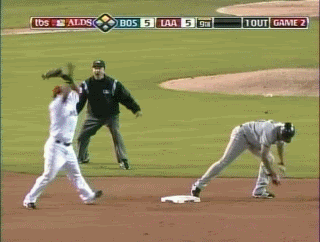 Uploaded to SoSH by amarshal2

Quite honestly I cannot stop laughing. Today just got a bit better. Thanks Erick Aybar.


Game 3 Cape Cod League Alumni Player of the game to come later.

Don't forget to join the
Dustin Pedroia for MVP Group on Facebook
! Show your support for our favorite sailor cursing hitting machine!
!
Wondering what SoxyLady is up to? Follow me on Twitter:
http://twitter.com/SoxyLady
Follow @SoxyLady